How Much MCM Can One Town Have: A Tour of Enid's Architectural Marvels, Part 2
text and photos by Lynne Rostochil
It's been a week since our architecture tour in Enid, and I still can't get over some of the incredible buildings John and Kingkini Arend arranged for us to see.  Enid is now high on my list of favorite mid-century modern architecture enclaves, that's for sure, and to show you what I mean, let's continue with the tour!
After we left the library, our group met at the Dillingham House back in the Indian Hills neighborhood:
The home was designed by Enid native and OSU grad, Elbert Wheeler, of Wheeler & Wheeler (the other Wheeler being his brother, Glen).  Built in 1960, the low-slung ranch is located on a quiet, tree-studded lot next to a bird sanctuary.  The exterior's big wow is the stacked red brick columns in front:
But that's just the beginning.  Walk in the door and the whole house is one big wow, beginning with the terrazzo-tiled entry, complete with clerestory windows with a fun circle-patterned insert…:
… a once-functioning water feature…:
… and lots of rich wood built-ins that act as room dividers:
Inside, the brick was painted white at some point, but while others weren't crazy about the look, I didn't mind it.  What do you think?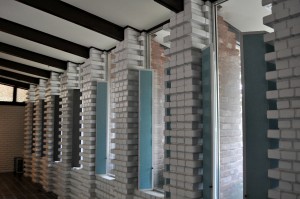 While looking at the brick, our always observant Brent noticed that the bricks had foundry markings and rounded edges, like pavers:
Luckily for us, Elbert Wheeler's wife, Meme, was on hand to tell us that the bricks were salvaged when a school was being demolished in Tulsa and reused for this project.  Cool, aye?
Here's something equally as cool.  How would you like to have this treasure trove of vintage photos of your house under construction?  Well, that's just what these lucky homeowners inherited when they bought the Dillingham house a year ago — scads of photos:
One of the big highlights of this home is the gorgeous original kitchen, complete with more clerestory windows, green metal cabinets, and a vent hood that looks like it came off a monstrous old phonograph:
How great is that?!
I didn't think that anything could top the Dillingham house until we strolled around the corner and found ourselves oohing and ahhing over this remarkable piece of modernism designed by our old pal, Frank Davies:
I've driven by this house before and have always marveled at its elegant and oh-so-eye-popping architecture — I mean, look at that carport and how much it lends to the design of the whole house!
Sadly, this part of the home was severely damaged in a fire several years ago when then owner, Chris Jones, likely had a fatal heart attack at the wheel of his running vintage car, which somehow caught fire and caused the conflagration.  Jones was a much beloved friend to many and was also Enid's resident architecture expert, who according to several on the tour, knew the behind-the-scenes dirt on almost every building in town.  He documented some of his vast knowledge of Enid's buildings for the architecture tours he often organized, and hopefully, we'll be able to honor Chris and share his wealth of information with you on the Mod Blog someday.  As for the house, I'm happy to report that the home Chris loved so much has been beautifully restored and looks better than ever.
Designed for the Bowers family and completed in 1962, the entire two bedroom home is built around a cozy central courtyard…:
… with curtain walls of windows in every room that face its tranquil beauty:
Dark wood beams and paneling provide beautiful accents and further meld the indoor and outdoor spaces:
As if that weren't enough, Davies designed a drop-dead gorgeous kitchen, complete with a built-in dining room table that folds down to maximize space (here it is up)…:
… an angled fireplace standing guard next to a cozy, breakfast area…:
… and an accordion door that can close off the eating area from the main kitchen: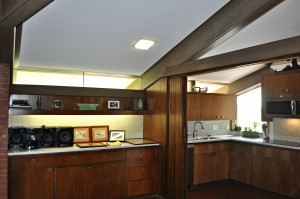 Like the Dillingham house, the homeowner of this beauty inherited several original items, including these photos of the Bowers House soon after it was completed…:
… architectural drawings…:
… and, perhaps most rare of all, original spec documents…:
As soon as I saw the spec docs, I remembered that OKC's own Bill Howard and Frank Davies were partners, along with J.M. Samis, from 1958-1966 — long enough for them to team up to design our beloved Quail Creek Country Club and what is now the Jim Thorpe Oklahoma Sports Hall of Fame (originally the P.R.O.S. and Associates Building on N. Lincoln).  For those of you who haven't been to the fabulous Quail Creek Country Club in OKC, you can view a few photos of it here … and perhaps see some very interesting similarities between the club and the Bowers House, both of which were designed and constructed around the same time:
https://okcmod.com/?page_id=1612
Also, here's the Jim Thorpe Oklahoma Sports Hall of Fame:
https://okcmod.com/?page_id=635
It looks like Bill Howard and Frank Davies were a good influence on each other, aye?
According to Davies' obituary (he died in 2008), "Frank moved back to Enid in 1965 to manage Davies Brick & Tile while his father underwent cancer treatment in Oklahoma City.  After the brick plant was sold, Frank was offered a partnership with D. A. Smith, which became Smith Day & Davies, securing his lifetime commitment to Enid.  Soon after D. A. Smith passed, Bob Poe joined the firm, and opened the Tulsa office Day Davies & Poe in 1974, which eventually became Davies and Poe."
So, it looks like I'm going to be hunting for some of Frank Davies' architecture the next time I'm in Tulsa!  Back to our Enid tour, though.
We very reluctantly left the paradise that is the Bowers House and moved on to a most unusual commercial building that is tucked away in a quiet residential neighborhood, the Thayne A. Hedges Community Speech and Hearing Center: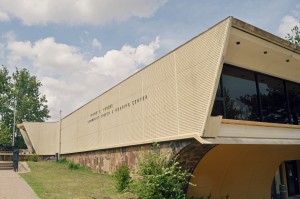 This crazy, rectangular concoction of waffle-like panels along the front and a cantilevered side facing a tree-lined creek bed was the brain child of Tom Rogers.  Look at this great entry that hasn't changed a bit since the building was constructed in 1969 — love that lamp!
And the scalloped concrete awning:
Although the building is long and rectangular, the circular entry hints at what's inside — a circle within a square — as you can see in this architectural drawing:
The ingenious circular design allowed for patients and their doctors to be in one room and parents in an adjoining room observing through a two-way mirror:
The circle continues in the hallway that surrounds the observation rooms….
… as well as outside, where Rogers designed a ramp to the building long before law mandated that all commercial structures be handicap accessible:
A couple of blocks from the Hedges Speech & Hearing Center is another Tom Rogers delight, one that you would expect to find just about anywhere else besides little Enid, Oklahoma:
It's so Googie-licious!!!
This thin-shell concrete, hyperbolic paraboloid wonder is so beyond great, I just can't stand it.  Wowza!
Inside, the 1963 split-level home (living and kitchen is up and bedrooms are down) is just as impressive, with an interesting latticed ceiling unlike anything I've ever seen before:
The current owner said that, originally, Styrofoam made up the lighter portion of the lattice.  Styrofoam … really?  Well, it was an era where architects used materials in new ways, so why not see if Styrofoam worked as a ceiling?  It did for awhile, I guess, but the Styrofoam began to break down with age, and the owners found themselves looking like they had bad cases of dandruff until they replaced the deteriorating Styrofoam with metal a few years ago.  Probably a good idea.
Here's the kitchen, which very creatively opens up to the rest of the living/dining room:
The back of the house is just as impressive as the front:
So, why aren't more houses built like this?  It looks like the roof has probably taken all kinds of crazy storms and still looks great after over 50 years.  I'd love to have a roof that could boast a 50+ year life span, wouldn't you?
After the Googie cabin, we stopped at the Wheeler & Wheeler-designed Briggs Auditorium at the old Phillips University campus.  Northern Oklahoma College, a two-year junior college, calls the campus home now, and Briggs, which was built in 1959, was definitely a great spot to take a load off (as Jackie is here) between tour stops:
Our last stop of the day was the Harvest Time Church, designed by D.A. Smith and built in 1960:
Originally an insurance company, the church bought the building two decades ago; however, it recently moved out and the building is currently for sale.
And that's the end of our official tour, but on the way out of town we saw this cool church just as an ominous gray sky quickly overtook Enid, beckoning looming storms to come and wash the heat away: