How Much MCM Can One Town Have: A Tour of Enid's Architectural Marvels, Part 1
text and photos by Lynne Rostochil
Some of our state's best architecture lies far beyond big city limits in the small hamlets dotting Oklahoma's countryside.  Of course, Bartlesville and Norman come to mind when talking about small-town mod, but after touring some of Enid's incredibly distinctive modern buildings last weekend, I'd have to rank the Wheat Capital of Oklahoma right up there with her better-known cousins.  It's all thanks to a group of architects who called Enid home during the post-WWII years and used their town as a canvas to explore innovative design ideas … and to building owners who were happy to go along for the ride.
Enter John and Kingkini Arend.  Originally from Ohio and India respectively, the recent architecture school graduates moved to Enid four years ago for work.  Kingkini tells me that for the first year they lived there, they spent every weekend driving around and discovering their new hometown's vast array of mid-century architecture by such local architects as Dura Smith, Frank Davies, Elbert Wheeler, Tom Rogers, and Dow Gumerson.  These weekly architecture safaris led them to conclude that Enid was a significant architectural player during modernism's Golden Age, and they were eager to share their discoveries with everyone.  So, John and Kingkini put together an architecture tour last weekend that, I have to say, rivaled any FLW or Goff tour I've been on.  After checking out building after incredible building last Saturday, it's really hard to believe that Enid isn't as well known for its mid-century architecture as Norman and Bartlesville, but if John and Kingkini keep doing such a great job of spreading the word, maybe this metropolis of almost 50,000 soon will be.
We began our tour in the posh Indian Hills neighborhood, which is a delightful hodge podge of homes built from the 1930s through the 1980s.  You can find such diverse examples as colonial, traditional, streamline, and happily for us, mid-century homes in this tree-lined, rambling neighborhood just a mile from downtown.  It's such a lovely area that more than once on the tour, I found myself pondering the feasibility of commuting to and from OKC every day just so I could call this lovely enclave home.  Have a look at some of these beauties and maybe you'll decide to join in my fantasy and sign up for the daily carpool to the big city.
Our first stop was this charming ranch designed by Frank Davies:
Davies grew up in Enid and studied under Bruce Goff at OU, graduating in 1952.  The following year, he designed this home for his new in-laws, the Frantz's.  All I can say is that, if he was trying to score some brownie points with them, Davies succeeded mightily with his creation.  I mean look at this entry, just look at it!
It's all original and all FAN-TAS-TIC!  And that's just the beginning.  The formal living/dining room is surrounded by windows on three sides, bringing the outdoors in while also creating a cozy and very livable space:
Look at this incredible and quite ample kitchen with original metal cabinets and super shiny red floor.  I can't express enough how much I love this unusual color combination: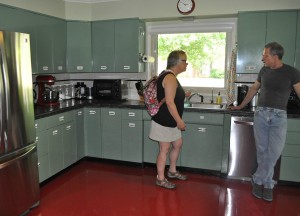 Off of the kitchen is the den and informal dining area:
The owner got this to-die-for dining table and chairs when Frank Davies closed his office several years ago.  It's very fitting that it has found a home in a house he designed.  Speaking of design, the owners also have all of the original blueprints for the house — lucky them!
Their luck has continued with their incredible art collection.  Homeowner Molly is Elbert Wheeler's niece, and she has inherited some very colorful modern glass lamps that once hung in his architectural office.  Wheeler's lovely wife, Meme (who joined us on the tour), is also a very accomplished abstract painter and has passed down a few of her energetic works that now hang in the home:
Sigh….  I love this house and would have been completely content if that's all we toured, but this was just the beginning of a day filled with great design.
Speaking of great design, on the way to our next stop, we spotted this delight:
Are you freakin' kidding me?  Oh my, that is something quite extraordinary, indeed.  Maybe it will be on the next Enid tour … hint, hint.
Okay, back to this tour.  Our next stop was one of my very favorite office complexes ever, the Ward Offices, which was constructed in 1967.  I'm so in love with this design I can't stand it.  Local architect Dura Smith (of Smith-Day and later Smith, Day and Davies — yes, our buddy, Frank Davies) lived in this modest neighborhood of attractive clapboard homes surrounding a pasture and creek.  He envisioned great things for the hilly grove bordering Owen K. Garriott Road and began talking to his neighbors about building a unique office complex on the site.  One by one, they agreed, construction began, and this incredibly sexy complex was the result:
My heart goes a'flutter every time I set eyes on this group of four office buildings half resting on terra firma and half supported by thick concrete stilts embedded just above the creek bed.  It's just too darned cool to be an office complex, with generous balconies overlooking the creek, plenty of windows to let in light, and contrasting red brick and green siding (there's that fantastic color combination again) that lend an air of restrained drama to the whole place.  Smith's ingenious design made the most of a lot that I'm sure many less innovative architects deemed impossible to work with, and his vision was rewarded with an architectural merit award from the Oklahoma AIA in 1970.
Sadly, Smith didn't live to enjoy this meaningful accolade from his peers.  He was killed in a car/train accident in Enid in 1968, cutting short a career that I'm sure would have left Enid with many more architectural marvels.
After leaving the Ward Offices, we headed to the other side of downtown to check out a building that is straight out of a Jetson's episode, the local VFW:
Designed by another local architect, Tom Rogers, and built in 1956, the building has seen better days, but it still looks like it could blast off toward the heavens at any moment.  Rogers was another Goff student and graduated from OU in 1948.  He returned to Enid, where he spent his career designing Enid's best examples of Googie architecture, including this butterflied gem:
From the VFW, we headed to the heart of downtown and another Smith, Day & Davies project, the Enid Public Library:
Originally, a sweet Carnegie Library occupied the site on the town square:
Over the years, a lack of proper care forced the city to condemn and demolish the building in the late '50s.  When its modern concrete and glass replacement was constructed in 1964, it seemed that all of Enid showed up to have a look:
Here are some of those balcony-level circles today:
Originally, the lobby featured a rounded front desk with a slatted wood wall that rose up two stories:
The wood walls were removed during a remodel some years ago, but a small example remains in an upstairs conference room, complete with original podium — love those sexy legs!
While much of the library remains original, alas, most of these great furnishings are long gone:
Much like the Ward Offices we toured earlier, the library's massive weight is supported by huge concrete pillars.  A floating glass wall breaks up the monotony of the concrete and gives what would normally be a heavy-handed, almost Brutalist structure a much-needed light and airy feel:
Known for its immense grain elevators that surround the city, Enid has one of the largest grain storage capacities in the world.  So, perhaps it's no coincidence that the library's vertical lines mimic those of the grain elevators that contribute so greatly to Enid's skyline.  Compare these vintage and current-day shots of the library…
With these beautiful images of Enid's grain elevators taken by Blake Gumprecht:
http://www.flickriver.com/photos/gumprecht/sets/72157619198208404/
What do you think?
Well, that's it for today.  We'll wrap up our fun tour of Enid's mid-century wonders in the next couple of days with a look at some jaw-dropping homes that might make that idea of moving up north quite a bit more tempting.