On the Market: The House of Good Taste
text and present-day photos by Lynne Rostochil, vintage sources provided by the homeowner, photos of Stone and the model by Phillip Harrington
Normally, I wouldn't admit this but since I know I'm among friends who are kind of crazy like me, I have to divulge the fact that I'm a bit of an obsessive helicopter mom.  Yes, that's right, I'm one of those irritating, hovering moms who has to know how her kids are doing at all times … only my kids aren't my actual children, who can go days without bathing or brushing their teeth as long as they get good grades; instead, my children are my favorite mid-century modern homes that I, well, that I kind of stalk like a possessive mother whose glory days are long behind her and whose only happiness in life comes from living vicariously through her very patient children (no offense to any true 'copter moms out there).  It sounds pretty pathetic, I know, but when I find a great mid-century house in town that I like, I kind of adopt it and, like a protective mother, find myself driving by every few months to see how my baby is doing and to make sure it's being well loved.  There are a few houses that seem to get sadder and sadder each time I check on them, which gets me pretty grumpy, but most of the homes I love have owners who obviously appreciate what they have so I don't have to get my maternal dander up very often, thank goodness.  One such beautifully cared-for home is a flat-roofed marvel in my very own neighborhood that I've lusted over for nearly 15 years now and check on frequently during my walks through our quiet suburban streets.  After a recent chance meeting with the owner, I learned all about this unique house's fascinating history and can't wait to share it with you!
The mere mention of the turbulent 1960s often evokes controversial images of unrest, such as young African-Americans bravely hugging each other as Bull Connor's ferocious dogs lunge and police-trained hoses violently spray in their direction; half-naked, war-ravaged children running in terror after an attack on their small Vietnamese village; psychedelically-clad anti-war protestors placing flowers in National Guard gun barrels; or mud-laden, tripped out hippies enjoying peace and love, Woodstock style.  With all of that going on, it's almost easy to forget that the decade also saw a plethora of world's fairs and expos touting the latest in technological and design advances.  In fact, nearly every year of the '60s saw a new exposition popping up somewhere — Seattle's Century 21 Exposition in 1962, the New York World's Fair in 1964 and 1965, Montreal's Expo in 1967, and San Antonio's HemisFair in 1968.  Yes, the 1960s would definitely be the decade to time travel back to if you are a fair lover, and perhaps the most impressive of the fairs was the New York event that boasted the latest in monorail technology, introduced the brand new Ford Mustang to the world, and gave New York City the giant Unisphere.  It also gave fair goers a chance to see the latest in residential design ideas, the three Houses of Good Taste.
The three houses — one traditional, one contemporary, and one modern in design — were major highlights of the fair and boasted some very high-end amenities at an affordable build price, including sexy sunken tubs, open living and dining spaces, and lots and lots of windows.  Internationally-renowned architect, Edward Durrell Stone, was selected to design the modern House of Good Taste and opted to go with a design that even now would be considered very forward thinking and much more environmentally friendly than the tacky suburban sprawl we see today.
His design maximized living space while focusing on privacy and the more continental European idea of  "inward" living.  As Stone explained in an article featured in the February 11, 1964 issue of Look magazine, "If the colonies had been settled by the French or Spanish, we would have fallen heir to a completely different tradition. The ancient Pompeians, for example, built their houses wall to wall, presenting a solid front to the street. Behind this stretched a beautiful atrium (a lighted room) and an open courtyard with all the rooms grouped around it."  However, we based our housing on more Anglo-Saxon building traditions that called for freestanding homes on large, private lots, and Stone lamented, "the suburbs of our cities are today being used up by little boxes set on handkerchief lawns … which is the most impractical way in the world to build dwellings. I think we should stop kidding ourselves and recognize that our land is very precious. We had better cloister our houses and be less wasteful of it. By building wall to wall, with enclosed courtyards, we also gain that other precious commodity so essential to peace and tranquility – privacy."  With this notion in mind, Stone designed three plans for his modern House of Good Taste where like-designed homes could be clustered close together while also celebrating the need for plenty of private space: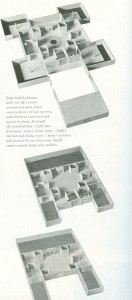 Here's the detail of one of the plans:
Stone's model home featured an atrium in the heart of the square-shaped plan that incorporated natural elements in its design, including a round, six-foot reflecting pool and a similarly-sized skylight above to let in an abundance of muted sunlight for plants, creating an indoor park-like setting.  (The following four photos are from the September 1964 issue of Better Homes and Gardens magazine.)
Surrounding the common atrium area were bedrooms, the living room, and the kitchen, each with its own private, walled courtyard that considerably expanded the compact home's square footage and opened up rooms for easy, breezy indoor/outdoor living.
During the two seasons of the New York World's Fair (April – October in 1964 and 1965), hundreds of thousands of people toured the three Houses of Good Taste and many came away wanting to build their own homes based on the models they fell in love with at the fair.  Here are just a couple of the effusive letters Stone received from fair goers raving about his design and requesting to build their own personal House of Good Taste (click the photo to enlarge):
Here's another great one:
If you were like one of these enthusiastic fair goers who wanted to build your very own Stone-inspired House of Good Taste, all you had to do was send $1,000 for the plans and you were on your way:
And that's just what the owner of OKC's Homes of Prestige, Stanley Brown, did.
Like Edward Durrell Stone, Brown was experimenting with new ways of living as he laid plans to develop a new sub-division called Rolling Hills #2 just west of luxurious Quail Creek, so perhaps it's no coincidence that Stone's design for the House of Good Taste appealed to him.  While Stone focused on building houses that were close in proximity and emphasized privacy, Brown believed that neighborhoods could be made more livable and appealing with community spaces shared by a small number of homeowners.  He put his theory to the test with the first phase of development, where he took 10 acres of undeveloped land and planned 28 homes surrounding a four-acre park that included a community pool and clubhouse, tennis courts, picnic areas, and a playground.  Only residents of these 28 homes would have access to the private park, with each having a 1/28th ownership interest in it and paying dues that would go toward maintenance, improvements, lifeguards, and any other park-related issues.  Brown estimated that owners would spend around $6 a month (about $45 today) for park expenses, a real bargain compared to pricey club memberships that offered the same perks.
Brown explained in an Oklahoman article that, for the cost of the home ($26,500-$35,000 in 1964 — $200,000-$263,000 today) plus an additional $1,500 ($11,000 in 2014) for a parkside lot, owners could have "a feeling of open space now only available in the city's golf course developments."  In other words, this was upscale living at an affordable price and who didn't like that?  The 28 lots sold quickly — some to homeowners and others to home builders — and Brown planned to add more such private parks to the planned 536-acre sub-division.  Not to leave out those who wanted upscale living along a ritzy golf course, Brown and the neighborhood's other developers also planned two 18-hole golf courses and a neighborhood pool and clubhouse in Rolling Hills #2.
The first home on the community park triangle would be a modified version of Stone's House of Good Taste, a building event that publicity-savvy Brown proudly advertised in the summer months of 1964 while the home was under construction — here's one of many ads that appeared in the Oklahoman during this time:
Brown modified Stone's plan somewhat to make it more Oklahoma friendly.  He enlarged the living and bedroom areas and fully enclosed the courtyards with a white Roman brick wall that surrounded the house on three sides.  In addition (and kind of sadly), Brown chose to remove the atrium fountain because, as he told the Oklahoman, "that much water, with Oklahoma air conditioning and heating, would create a moisture problem for both the house and furnishings, not to mention the people, that just wouldn't quit."  Instead, Brown said that he'd put a more practical rock garden in its place, but as you'll learn later, I don't think that ever happened.
Oklahoma City's version of the House of Good Taste was completed in time for 1964's Parade of Homes, which saw a record number of visitors (over 56,000) during its weeklong run.  Cars lined newly paved streets and haphazardly packed on undeveloped lots as visitors patiently waited in long lines to get a peek at Brown's baby, which was the first home completed in the entire Rolling Hills #2 addition.  And those who had to fight the crowds were not disappointed.  Even though interior designer, Sarah Cloyd, opted to go with more traditional furnishings (supplied by Harbour-Longmire) for the beautifully modern abode, people obviously didn't mind the incongruity and the house was the rave of the Parade.
The house sold soon after the parade and over the next few years, the Rolling Hills #2 addition filled in with new homes and was renamed The Greens when the private golf course and clubhouse were finally constructed in 1971.  Although one golf course was built, Stanley Brown's ambitious plans for the neighborhood were never fully realized; although many were planned, the prototype community park is the only one that was built in the end and the second golf course never materialized, either.  But those things didn't seem to bother the hundreds of new residents who moved to the far northwestern reaches of town to live the good life in suburbia, and The Greens continues to hold up well today…
… as does the House of Good Taste.
As I mentioned during my admission of being a helicopter mom where mid-century architecture is concerned, this great home has been one of my architectural favorites for a long time and I'm happy to say that it has always been well loved.  However, the owner, who has lived in this great house for 25 years, is ready to move on and wants to sell this gem to someone who will be a good caretaker for the home and will appreciate its mid-century lines and unique history.  I'm keeping my fingers crossed that one of you Squadders falls in love with the house and can't live without it and to make sure that happens and I won't be a grumpy mom with this house someday, I thought I'd entice you with a few present-day images of Edward Durrell Stone's vision for living, '60s style:
As you saw in the photos of the model and plans, the garage is at the front of the house closest to the street while the house itself sits on the back part of the lot, and Stanley Brown left this detail intact:
That's the garage on the left and the front of the house peeking from behind one of the private courtyards.  And how cool is that brick?  You will see plenty of it everywhere inside and outside the house.  Next up is the entry:
Originally, there was a breezeway between the garage and the house (see Stone's plans above), but a previous owner enclosed it where you see the siding.  It's now a long hall and office.  And, yes, the entry area even has its own courtyard:
Once inside, you walk through the converted breezeway to this spectacular view:
Yes, this is the heart of the house where the fountain would have been if Stanley Brown had decided to include it in his modified design.  Although it's a bummer that the fountain isn't there, this house does hide a great secret: under the carpet in the center of the house is a speckled white terrazzo floor that hasn't seen the light of day since before the current owner moved in!  So, although the carpet is nice, I hope the new owner's first project will be to reveal the beautiful original flooring underneath.
While Brown omitted the fountain from his design, he did include the atrium skylight, which lets in subtle lighting even on the grayest of days (like the one we had during my visit to the house):
How sexy is that tray ceiling with the up lighting?  Love it!  As you can see, the dining room and cozy living room (complete with fireplace and built-in seating under the large windows) share space, something that was quite a novel idea back in 1964.  Three bedrooms are off of the main atrium room, each with its own sliding glass door to a private courtyard:
The kitchen is also off of the atrium room:
Off the kitchen is another fantastic courtyard that's perfect for a little indoor/outdoor living:
This courtyard wraps around the back of the house and to the master bedroom on the other side:
And all of the courtyards at the back of the house face the well-maintained, four-acre community park:
Here's the view of the pool and clubhouse from the back courtyard:
Yes, even on the ugliest of gray, winter days, the charismatic House of Good Taste photographs beautifully and is certainly one of Oklahoma City's best kept architectural secrets:
If you or someone you know is interested in becoming the new caretaker for this lovely home, contact me on the Okie Mod Squad Facebook page and I'll put you in touch with the owner.  In the meantime, I'll continue to play helicopter mom and will check on this baby frequently, just as I do all of my other architectural adoptees.  Yeah, it's a bit of a crazy thing to do, I suppose, but I suspect that most of you architecture lovers out there do it, too, don't you?!