On the Hunt for Mod in Kingfisher and Enid
text and photos by Robyn Arn and Lynne Rostochil
(Both Robyn and Lynne have visited Kingfisher and Enid recently and found several mid-century gems along the way.  Robyn's contribution will be in normal type, and Lynne's will be in italics.)
A couple weekends ago I headed to Enid to check out some of the architecture I'd been hearing so much about. Could have chosen a cooler day, but there was an estate sale luring me there as well. I took Northwest Expressway out to Highway 81 then north so I could go through Kingfisher, which has several cool structures, too. On the east side of the road you first pass Harold Hite's Fire Station.
photo by Lynne Rostochil
He also designed the wonderful #10 at 16th & Penn in Oklahoma City and you can see the similarities:
photo by Lynne Rostochil
Just up the road on the same side is the Kingfisher County Courthouse (designed by Noftsger, Lawrence & Associates and built in 1960) with its cool zig-zag awning:
Photo by Robyn Arn
Photo by Lynne Rostochil
On a side street on your way out of the town center is the Pioneer Telephone building with a very impressive screen covering the entire second floor:
 Photo by Robyn Arn
After I got to Enid and checked out the estate sale, I meandered through that neighborhood (West of 81 and South of Garriott Road) to see what I came across. This area ran the gamut from turn of the century mansions to modest, but amazing mid-century abodes. I took pictures of three of my favorites, but there were definitely more that are worth checking out: 
 Photo by Robyn Arn
According to Squadder Kingkini Arend (who is an intern architect in Enid), "This is the Tappen house. The Tappens love the mid century style and put in a lot of TLC to restore it."  Before buying this house, the Tappens owned another mid-century home in Enid that they rescued from demolition and brought back to life:
http://www.indianhillsrocks.com/1110-ramona.html
Another, less assuming mid-century abode, is located in the neighborhood that is worth looking at the next time you're in Enid:
http://www.indianhillsrocks.com/2107-comanche-trail.html
But, the greatness in this neighborhood doesn't end there.  Here's another funky mod in the same area that was designed by local architect Tom Rogers, who designed a lot of mid-century marvels in Enid, as you will soon see: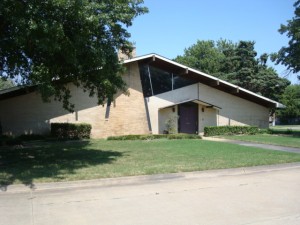 Photo by Robyn Arn
Kingkini has this to say about the following house: "This house on Mockingbird has a mind-blowing hexagonal plan with a courtyard, and interiors to match. It was designed by Frank Davies. I was lucky to get a tour before it was sold.  It has stained redwood siding. The car porch and most of the house was burnt in a fire that also killed Chris Jones, the person I told you about who was an authority on Enid architecture, especially from the mid century era. The house is now restored and sold."
Photos by Robyn Arn
Taking Garriott Road west I happened upon the wonderful Professional Building Complex by Smith-Day Associates.  To work around the hilly terrain, several of the structures are on stilts. Terraces and bright green paint add to the casual, charming feel.  Perhaps not surprisingly, this Mies-inspired complex received an Architectural Merit award from the Oklahoma Chapter of the AIA in 1970, and Smith-Day maintained their offices here for several years.
 Photos by Robyn Arn
In the downtown area is the Enid Library, another beautiful Smith-Day project:
Photo by Robyn Arn
Photo by Lynne Rostochil
Kingkini says this structure replaced an old and much beloved Carnegie library located nearby.  When, the new library was completed in 1964, it was loved by some and reviled by others for its modern design that was completely unlike its predecessor.  Now, there are rumblings in the community that this branch has now outgrown its usefulness and another new library should be built.
Across the street from the library is the Security National Bank, another project designed by Smith-Day:
Photo by Robyn Arn
I hadn't seen a staircase projecting through a front window before, but I must tell you it's damned impressive:
Photo by Robyn Arn
Heading slightly east of downtown I also found the funky Googie building Lynne has spoken of.  Word to the current tenants: "let those windows breathe, people!" 
 Photo by Robyn Arn
According to Kingini, this great bit of Googie goodness was designed by local architect and developer, Tom Rogers. 
As I was leaving town, some more little gems caught my eye. I was sweaty and tired at this point but decided not to stop – 'cause it was worth a trip back to see more of the excellent mid-century structures Enid has to offer.
Not so with me.  My trip to Enid occurred on the coldest weekend of the year, and I had to drive around town in blizzard-like conditions at times (it would snow several inches the day I left town).  So, even though some of my Enid photos were taken on a yucky, gray day, the architecture is so great that I'm sharing them anyway.
I decided that a trip to Enid was in order after I found an old photo album of architectural projects completed by Dow Gumerson, who was from the area and worked there before moving to OKC in the late 50's.  One building he designed there that I was really anxious to see is the old Champlin Refining Company building near downtown that was built in 1951.  Here it is under construction:
And, here's a photo of it when it was sparkling new:
The building today.  Champlin left a long time ago, and an insurance company occupies the space now:
Another Gumerson-designed building I looked for is the George Failing building, seen here when it was newly constructed in the 40's:
Sadly, when I drove to the address I had for the building, all I found was a vacant lot.  Bummer.
I did have more luck at the Phillips University campus, where there's quite a bit of interesting mid-century architecture sprinkled in with older, Gothic-style edifices.  My favorite is the Briggs Auditorium (designed by Wheeler & Wheeler and built in 1959), with its zig-zag roof and mix of dark red and buff bricks and blocks.  Very nice!
There's also this funky, little hexagon-shaped church:
… this Googie, bat-wing Phillips 66 station that is in amazingly original condition but has sadly been torn down since I took this photo in February.  Bummer!  Kingkini says that there's a similar station on the east side of town, though:
… and the Central Christian Church:
Here's one of Robyn's photos of the church that shows those Candela-inspired, concrete support columns:
Robyn captured another church on the outskirts of downtown showing a rather traditional looking building with a crazy ramp winding around the front.  I'm not sure what the purpose of the ramp is, but it's pretty wild.  According to Kingkini, this ramp was also designed by Tom Rogers, who designed some pretty fantastic buildings in the Enid area:
I also found a couple of cute mom-and-pop motels, including the Lazy H:
Here's a postcard of the motel from the 50's:
While the Lazy H looked homey and inviting, we opted to stay at the Trail Motel closer to downtown because it looked a little more Googie.  It was also cheap and clean, and the staff was very helpful and friendly:
Like many towns in Oklahoma, Kingfisher and Enid boast a wide array of mid-century modern buildings that are both unique and innovative and add a great depth and flavor to our state's outstanding architectural heritage.  These buildings definitely make it fun to go out exploring on a super hot (in Robyn's case) or blustery cold (in mine) day and check out some of these small-town Oklahoma gems.