T-Town Mod
photos and text by Lynne Rostochil
Last Saturday, I, along with fellow Squadders Terri, Matt and Robyn, made the trek up the Turnpike to Tulsa and met up with Tulsa Modern members Shane Hood and Rex Brown (who also writes the Oklahoma Modern blog) for a tour of mid-century modern architecture in their neck of the woods.  Here are some of the goodies they showed us:
Honn House
You might recognize the name Honn.  Architect Donald Honn was responsible for designing many of Tulsa's mid-century gems and developed Lortondale, an entire neighborhood of modern homes for the modern family, including an International style, rock abode for himself across from one of the community pools.   By the mid-60's, Honn was ready to build his much larger dream house on a hilly, tree-studded lot south of downtown, and this was the result:
Honn lived in the home with his wife until the late 90's, when it was quickly snapped up by the current owners.  Over the years, they have added a massive, multi-level deck off of the living/dining room that is tucked into a protective, green canopy of trees and a rectangular-shaped pool on the side of the house that perfectly compliments the box shape of the home itself.
Inside, the owners have thoughtfully remodeled most of the home while maintaining its best features — the views and relaxed, open plan living.
Another treasure we discovered on the tour is the Fellowship Congregational Church at 2900 S. Harvard.
I'm not sure who designed this modest-but-impressive sanctuary, but it's a real architectural delight and includes a courtyard with concrete benches that compliment the building and a truly impressive modern exterior relief next to the entrance: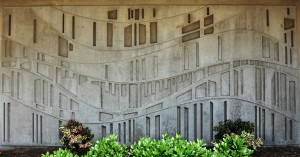 We also stopped by the Murray-Jones-Murray-designed Sts. Peter and Paul Catholic Church and were greeted by this great modern relief on the front of the building:
I'm not sure who designed it, but I'm thinking that it might be Frank Kacmarcik, who was responsible for the gorgeous angels at St. Patrick's Catholic Church in OKC that was constructed around the same time:
Similar styles?  What do you think?
Here are a few other highlights of the tour:
The Temple Israel synagogue at Utica Square
The Rose Bowl, which certainly has seen better days
The Jones House, designed by Robert Lawton Jones as his personal residence and made famous in some of Julius Shulman's most iconic images (http://www.moderntulsa.net/2009/03/02/jones-house/)
After touring various neighborhoods, we headed downtown for a snack and drink at the Vault, which was once the First National Autobank (designed by McCune & McCune) and remained vacant for years before becoming Tulsa's most popular eatery last year:
The second level of the Vault, home to the Tom Tom Club 
The Vault before the evening rush
 Robyn, Matt, Rex, Terri, and Shane enjoy tasty treats and good conversation after a long day of touring
Before we parted, Rex and Shane wanted to show us one last bit of Tulsa modernism, a Bertoia fountain that originally was located at the Autobank but was moved several years ago to a bleak and little-used hole in the ground that was supposed to be some kind of mini-mall and park area for downtown employees:
Here it sits, totally hidden from street-level view, rarely turned on, and completely overshadowed by the tall buildings that surround it.  Rex and Shane fear its fate, and I can see why.
As evening approached, we called it a day and went our separate ways.  On the drive back to OKC, I couldn't help but think how lucky we are to have such a wide array of mid-century architecture in Oklahoma and how nice it is to meet people throughout the state who share the same passion for good design and for preserving our architectural legacy.  Thanks again, Rex and Shane, for taking the time to show us around your great city!
If you're considering taking a self-guided tour of Tulsa's abundance of modern architecture, go to the Tulsa Modern website for ideas of where to begin — http://www.moderntulsa.net/.  Also, you can check out Rex's blog for more about mid-century architecture in Oklahoma — http://www.oklahomamodern.us/