Mod Squad Tour: The Vahlberg House
text and photos by Lynne Rostochil
Edgemere Park is home to some pretty fantastic dwellings, from 20's fairy tale-inspired homes with sweeping a-line roofs that seem to be heading toward the stars to mid-century modern delights with low slung rooflines and dramatic overhangs.  But, one of my very favorite homes in the neighborhood is a blindingly white, Art Moderne gem that more than holds its own with its beautiful neighbors.  I'm talking about the to-die-for, turreted Vahlberg House:
Fresh from obtaining his undergrad degree from OU and Master's in Architecture degree at MIT, 24-year-old Robert Vahlberg returned to Oklahoma City in 1937 and went to work for his uncle, architect Walter Vahlberg.  His first project was one that was close to home, literally.  Having full faith in his architectural abilities, young Vahlberg's parents hired him to design a new home for them and his younger brother, Julian, with the only stipulation being that his design come in at no more than $3 a square foot.  With creative carte blanche, Vahlberg quickly went to work on designing a thoroughly modern and airy three bedroom showplace for his parents in the very popular Art Moderne style.  After a year of planning and building, the completed 4,700-square-foot house boasted corner windows that allowed for cross ventilation (a huge perk in the days before air conditioning):
a three-car garage, a large dining room overlooking a monstrous backyard:
and, the showstopper, a light-filled, glass brick-encased, rounded stairwell leading up to a sitting area and three oversized bedrooms:
All of this luxury, beauty, and attention to detail came at a price, however.  The elder Vahlbergs' demands of $3 a square foot quickly escalated to $4, but they apparently got over their sticker shock pretty quickly and promptly began decorating their very modern home in a very traditional way.  According to an Oklahoman article from 1939, Mrs. Vahlberg (I like to think of her as a light hating vampire) covered many of the casement windows downstairs with heavy, red damask drapes, laid gold and dark brown carpet throughout the house, and added heavy oak English and French furniture, all of which effectively obstructed the clean, easy lines of the home and made the place as dark as a cave … see, vampire!  Even with all of the added expense and their apparent hatred of light, the Vampires … uh, Vahlbergs … must have been happy with their new abode (and their incongruent decorating choices) because they enjoyed their distinctive home for the next 20 or so years.
Last weekend, members of the Mod Squad were invited by the current, non-vampiric owners, Bill and Linda Bleakley, to tour the beautiful and now-bright Vahlberg home before they sell it.  Those who attended were in for a great treat, especially when Bill recounted inviting an elderly Robert Vahlberg to the house to visit after they bought it (over 20 years ago).  As Vahlberg toured his first architectural creation, now shed of its weighty curtains and dark antiques, thereby allowing every room to be filled with the warm light of day, he smiled and began to cry and told the Bleakleys that this is how the home was always meant to look.
I couldn't agree more.
Here a few more photos of the lovely Vahlberg House: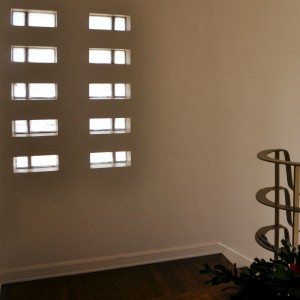 The upstairs landing with a glass block-accented wall and gold-painted railing.
 The rounded breakfast nook overlooking the backyard.
 A private side porch off of the living room.
The light-filled living room with the very modern and very original two-tone marble fireplace topped with a rose-colored mirror.  The doors to the left lead to the side porch.
 The rounded staircase leading from the basement to the first floor.
Even the door knobs are decorative!
And, one last look at that fantastic turreted staircase and glass block wall.
(A big thanks goes to Squadder, Cristina McQuistion for organizing the tour, the Bleakleys for opening their home to us, and realtor extraordinaire, Kerry Norman, who acted as one of our guides.)