Bruce Goff – Human Architect or Pan-Dimensional Alien Genius?
by Lynne Rostochil
(Originally, this article was written to correspond with the opening of the Goff exhibit at OU in 2010.  It is reprinted here in its entirety.)
A new exhibit celebrating Oklahoma's most famous architect, Bruce Goff, and his work opened last weekend at the Fred Jones, Jr. Museum of Art on the OU campus in Norman.  The exhibit is rather lamely titled, "Bruce Goff: A Creative Mind."
What?
That's it?
Obviously, no one asked me for suggestions, but if they had, here's what I would have recommended:
"Bruce Goff: THE Creative Mind"
"Bruce Goff: The Most Amazing Architectural Genius Who Ever Lived"
"Bruce Goff: What Planet Was He From?"
"Bruce Goff: Demigod"
Okay, yes, I might be just a tad bit biased, but "A Creative Mind" doesn't even come close to describing the fierce individualism and fantastical genius that was Bruce Goff.  As proof, think of the other-worldly, spiral-shaped Bavinger House…
Or the funky Pollock House with its wildly geometric roofline…
Nope, "A Creative Mind" just doesn't cut it.
Although it may be poorly named, the exhibit itself is quite impressive and adeptly gives us a glimpse of what the world could have looked like through Goff's eccentric but brilliant eyes.  Largely a survey of the architect's unrealized and demolished projects, the exhibit includes original drawings of space age, prism-shaped towers and modern, glass-encased homes barely clinging to craggy cliff sides.  As if this weren't enough, the big treat that will leave viewers gasping in delight are the vivid, state-of-the-art animations showing what some of Goff's unrealized projects, such as the ethereal Crystal Chapel (below), would have looked like had they been constructed.
It is fitting that this exhibit was born in Oklahoma because Goff spent his happiest and most productive years living and working here.  He began his career at the young age of 12 when, recognizing his incredible talent for drawing and design, Goff's father sought an apprenticeship for his pre-pubescent son at the prestigious Tulsa architectural firm of Rush, Endacott, Rush in 1916.
Not for the first time in his long career, Goff's timing couldn't have been better.  By 1920, Tulsa's second major oil boom was in full swing, bringing investors, speculators, shop keepers, outlaws, and rum runners to the once-sleepy town.  In the few short years from statehood in 1907 to the dawn of the flapper era, the population of the "Oil Capital of the World" skyrocketed from 7,300 to over 72,000 eager, success-hungry souls.  It was an enthusiastic time of dreaming and building, and Goff was right there to make his contribution to the city's blooming skyline.
During his incredibly productive Tulsa years, Goff, adhering to the en vogue style of the time, designed some of the best Art Deco treasures in the city, including the Riverside Music Studio, Adah Robinson's studio, the Guaranty Laundry building, Christ the King Church, and, the shining gem towering along the sidelines of downtown, the Boston Avenue Methodist Church (1929):
Tulsa's most spectacular piece of architecture is a celebration of everything Art Deco, but its design is not without some controversy.  Some attribute the design to Goff's high school art teacher (and later Tulsa University professor), Adah Robinson, with Goff working as only a draftsman on the project; however, all of the preliminary drawings of the church were drawn and signed by Goff, which indicates that most, if not all, of the design ideas came from him.
Even with the dispute, the church is a marvel.  The imposing limestone edifice is complimented by tiers of crisp, geometric ornamentation stretching up to the heavens on the 258-foot tall,14-story tower, while Gothic-inspired crockets and finials stand guard below.  Inside, the large sanctuary is capped by an all-encompassing, circular dome that always reminds me of a hovering, Aztecan flying saucer lying in wait, ready at a moment's notice to devour those sitting below:
Now, maybe you see where I'm going with idea that Goff was from outer space….  When I sit in that sanctuary and feel the dome inverting itself to gobble me up, I think that, if it does, I just might get sucked up into that otherworld that is Goff's mind and, for at least a moment, get to visualize all the greatness that must have filled his brain.  Then, I realize that the dome isn't doing anything but looking over me, and I leave, always feeling a bit sad at my missed (at least in my mind) opportunity.
I'm in good company when I find myself in awe of Goff's imagination.  While still a young man, Goff decided that he'd better go to school to get a formal education in architecture.  He contacted Frank Lloyd Wright about joining the master's school and workshop at Taliesin.  Very uncharacteristically, the notoriously egotistical Wright contacted Goff and told him that he should never attend any architecture school lest he would lose the very thing that made him distinctive … that made him Goff.  Smartly, Bruce Goff took Wright's sage advice to heart and never pursued any formal training as an architect.
By the 1930's, the Great Depression was in full swing, and building opportunities were drying up, much as the land itself, in Oklahoma, so Goff left to teach in Chicago and, later, in Berkeley.  Then, as millions of others did, he served during WWII.  After the war, Goff found himself back in Oklahoma when he accepted a teaching position at OU in 1946 and arrived in Norman in January 1947.  Within a year, he became Chairman of the School of Architecture there, and what followed is what many consider to be Goff's golden age.
Hearing about Goff's progressive and very creative teaching style, a bright, eager crop of post-war, forward thinking students began to arrive at OU to learn from the dynamic master.  Herb Greene, Bob Bowlby, Takenobu Mohri, and future Big Sur architect, Mickey Muennig, among dozens of others, learned from Goff to think out of the Miesian box, so to speak, by doing such non-architectural exercises as studying Japanese prints, listening to Debussey, and reading fairy tales.
According to Greene, Goff "had a natural kindness, patience and sympathy for most everyone and believed that everyone could be creative if they could relax and free themselves from fearing the impositions of others. He emanated kindness and consideration for others that endeared him to students and clients alike."
Motivated by such a creative, nurturing environment, both students and professor thrived during these highly productive years, and Oklahoma became the beneficiary of some of the best modern architecture of the day, beginning with Goff's Ledbetter House (1947):
The house is a rectangular-shaped, split-level home with a flagstone wall/fireplace/waterfall running the entire length of the back wall and curtains of glass along the front of the house.  Always eager to implement unconventional materials in his designs, Goff used dozens of clear glass ashtrays embedded in the doors and vertical wooden panels throughout the house to add natural light and subdued embellishment.
On the exterior, the long, severe lines of the house are juxtaposed with cantilevered, UFO-shaped discs (see, here we are talking about that again) as a carport and covered patio.
With this innovative design, Goff signaled to the world that the future was now.  The public must have agreed because the house caused such a sensation that, when it was opened to the public for a weekend tour soon after it was built, over 14,000 visitors showed up to get a first-hand look at the architectural wonder.
Soon thereafter, Goff went to work with Gene Bavinger to design a home and studio for the OU art professor and his family.  With the Bavinger House, Goff designed what is possibly his most perfectly realized work of organic architecture.
The home was sited to take full advantage of a wild and wooded lot with a creek running through it on the outskirts of Norman.  Unlike some of Goff's other buildings that seem like they are straight from a "Jetson's" episode, the Bavinger House, with its deep-brown-and-red natural rock, looks like it miraculously sprouted from an over-zealous plot of earth.  The spiral-shaped (or, in my maternal eye, a protective fetal-shaped) home is wholly organic, fluid, and natural.
Decades before it was trendy to think green, the home was constructed with largely recycled materials, such as WWI wire aircraft struts that hold up the roof and discarded, jagged aqua cullets from an eastern Oklahoma glass factory that work with the native rock to make up the walls.  It was also built, stone by heavy stone, by Bavinger and several OU art and architecture students on weekends and holidays over a five-year period.
The five-level home is basically a one-room structure with varying levels of suspended, round pods that are used for the living and sleeping areas.  The very top level, which originally contained an all-glass cylindrical bay, comprises the tightest part of the spiral and is two levels of mostly glass that Gene Bavinger used as his art studio.  The kitchen and dining area, surrounded by the natural stone, an indoor koi pond, and hundreds of tropical plants, are on the lowest level of the house.  When the house was completed in 1955, this most unusual residence appeared in a September issue of Life, which dubbed it the "space and saucer house," in reference to the pods.  (See, even Life connected Goff to an alien culture!  If Life surmised it, it must be true.)
The Bavinger House would certainly be cited as the apex in almost any architect's body of work, but Goff, who amassed over 500 built and unbuilt designs during his prolific career, was able to tap into his seemingly never-ending creative reserves time and time again, for projects both large and small.
Take, for example, the two teepee-inspired structures Goff designed in Oklahoma, the Hopewell Baptist Church (1948) and the Magyness House (1951):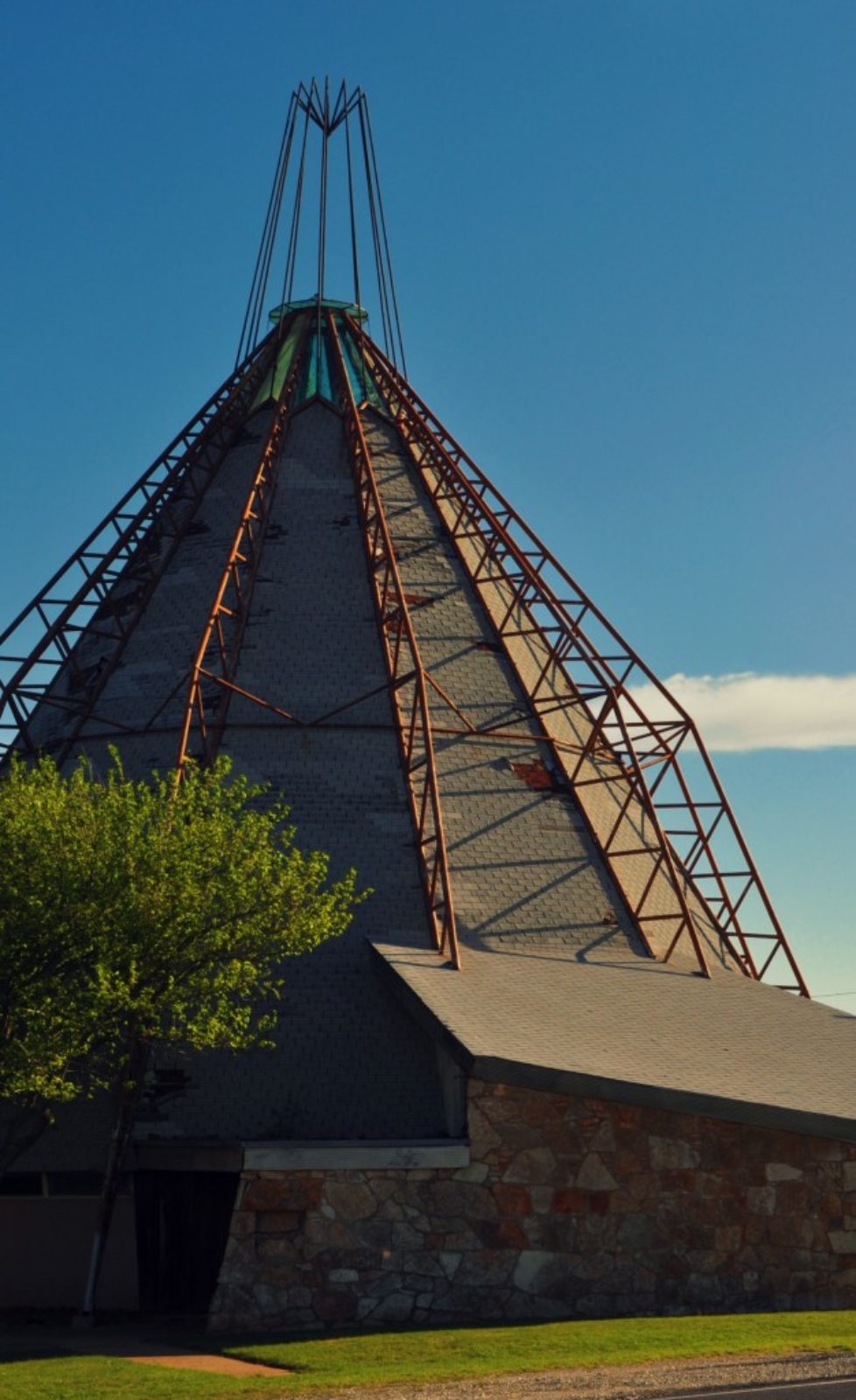 The church, located in Edmond, was for a small and financially modest congregation; therefore, Goff used oil pipe trusses in the design so that church members who worked in the oil fields would be able to save money by welding them together to construct the building.  The result is a wholly distinctive, but very practical structure that served the congregation for over 40 years, but sadly, it is now is in great need of restoration. (To donate to the restoration effort, please go to: http://www.goff-hopewell.org/).
The Magyness House is located in the Wetzler subdivision in Norman.  This modest house sits on a corner lot on a cul-de-sac and has a polygonal plan that is set into the ground, giving the roofline the appearance of melding into the earth itself.  The only real ornamentation on the house is a wooden trellis that extends from the front door to a half-moon shaped storage shed across the driveway.
Another modest commission was for the Corsaw House (1952), an L-shaped home in Norman that, unlike the Magyness House, is raised up off the ground by piers, allowing for a grand view of the densely treed backyard from the floor-to-ceiling glass windows lining the back of the house.
In 1955, Goff left OU and went to work (in private practice) and live in the newly-built, Wright-designed Price Tower in Bartlesville.  There, he designed several area residences, including Joe Price's gorgeous Shin'enKan (destroyed by arson in the 90's), the Harold Jones House, and the Motsenbocker House (1957):
Later, he would go on to design Oklahoma City's only Goff structure, the blissfully angled marvel known as the Pollock House (1957).  The home is comprised of nine overlapping squares set on an angle, with the apex of each square capped with a signature Goffian skylight.  Outside, the pyramidal, sloping roof of wood shingles enhances the angular motif that is also found in the two reflecting pools and on the green corrugated covered terrace above the once-garage, now-office.  Although it is a small home, I think the Pollock House is one of Goff's most striking structures.
Another of Goff's unbuilt designs was for the Cowboy Hall of Fame competition in 1956:
I don't know how anyone could make horseshoes modern and funky, but Goff sure did with this crazy, whimsical design.  Too bad he didn't win the competition….
In his later years, Goff moved to Tyler, Texas, where he continued to design, paint, mentor up-and-coming architects and admirers, and listen to his beloved music until his death at the age of 78 in 1982.
Even though many of his designs are so far beyond what I think almost any other human being could ever conjure, I feel comfortable in saying that Bruce Goff was not from another universe … well, somewhat comfortable, anyway.  I guess he just happened to be that rarity in our very earthly world who had a never-ending inventory of innovative, jaw-dropping designs swimming in his uniquely creative mind.  I may not be entirely convinced that Goff and I belonged to the same species, but I do rejoice every day that so many of his outlandish, beautiful, awe-inspiring buildings are right here in Oklahoma!
NOTES: