Founders National Bank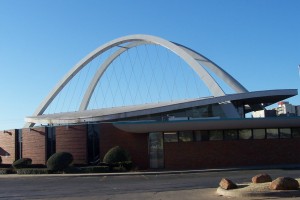 Robert Alan Bowlby
1964
5613 N. May, OKC
View on Map
Bob Bowlby was a student of Bruce Goff's at OU, and this remarkable building is his only known OKC design.  He worked closely with Goff and another Goff protege, Herb Greene, on many projects, including Greene's Cunningham House in Quail Creek.  He also taught and became quite an excellent architectural photographer a la Julius Shulman in the 1960's.
Originally, the bank was to be surrounded by an office tower, which was never built:
As for the bank, it has been altered.  In the 1990's, the glass wall around the perimeter of the building was removed to increase the office space, and a brick surround took its place.  With the addition, the building has certainly lost its lighter-than-air feeling, but, luckily, the iconic arches and roofline remain, and the old Founders Bank still looks incredibly modern today.
Read more about this iconic building and Bob Bowlby here.  Read more about the Founders District here.